A Little Sexy Cheer For You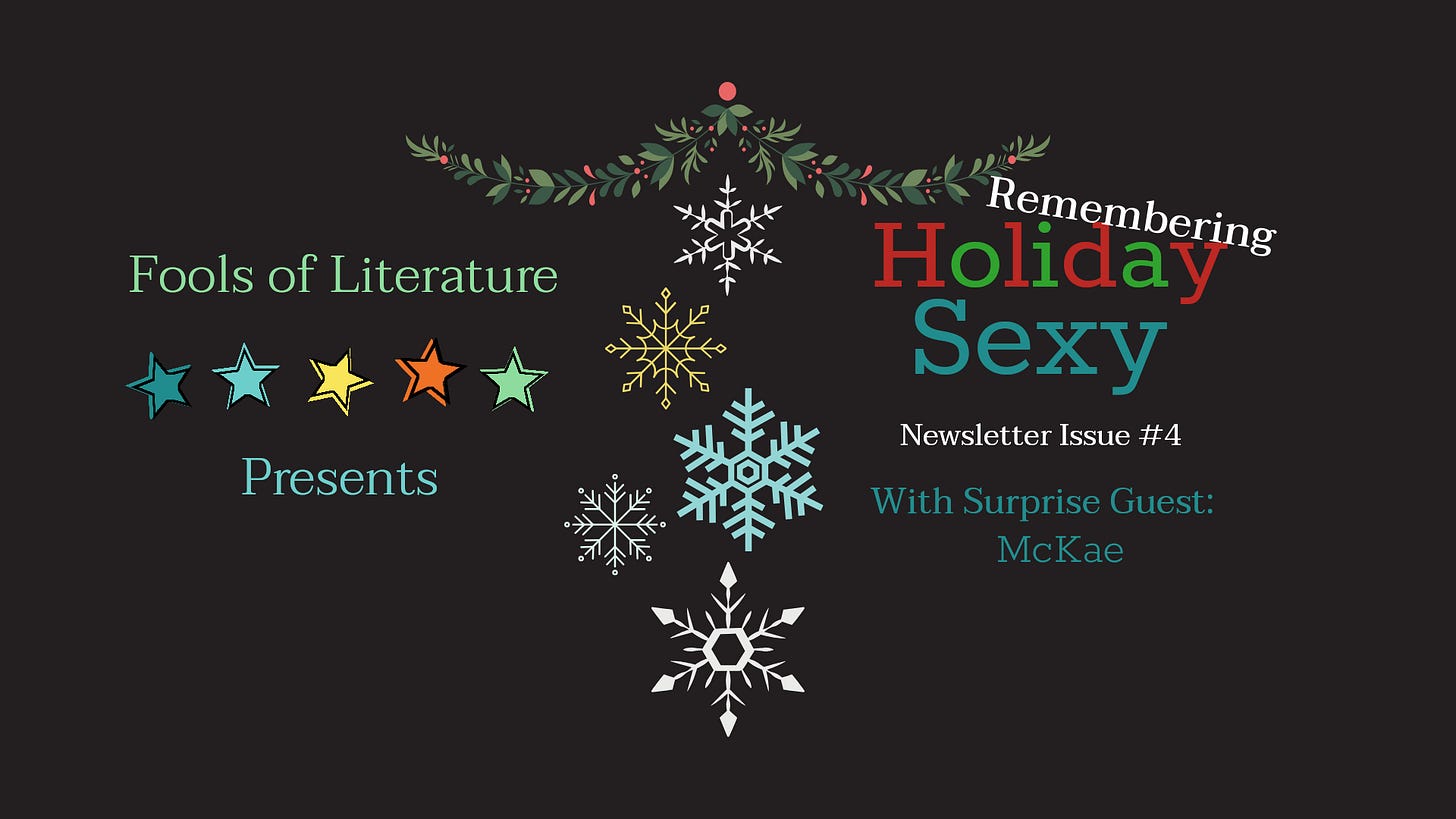 T'is (this is the only time of the year anyone can use "t'is" and not sound ridiculous) to be jolly and possibly impress a mate with their sexiness. During the holidays couples want to kick it up a notch, surpassing, the year-long sexiness and achieving the ultimate sexiness. The goal, to create an unforgettable sexy moment.
Marketing departments know this, and they push the romance which they hope will also be softly sexy not in your face, but the suggestion of things to come. Give a diamond and get the love or at the very least reinforce why you desire them. That is a lot to put on a jewelry purchase. These gifts usually require careful orchestration to the point of perfection and stress.
For those who have decided not to go with the big-ticket items, there are gifts which are supposed to guarantee the sexy mood and hopefully sex. However, where this may be a solid idea in theory, there are some things to consider. If sex is part of the gift, (sexy is a pronoun – sex is the verb), and if you are already enjoying a satisfying sex life what are you going to give that will make your gift unique for the occasion?
A lubrication company has provided a scenario. The table setting is perfect, the food, atmosphere is perfect, the couple is perfect everything is perfect. In the ice bucket is not ice, but two bottles of lubricant one for you, and one for them. The next scene, the table is no long perfect, food is everywhere, and the couple look satisfied. (Who is going to clean this mess up and you certainly can't go to bed and leave that mess and it is going to be worse in the morning.) I would say that this was a success in the sense that they had sex during a holiday setting, but I'm still not convinced that this was sexy.
If you are already a spontaneous couple, you are going to enjoy the meal and see where the evening will take you, if the meal is heavy and rich, you both will take a very sexy nap and then, who knows? The question I still must ask, what was the gift? Was it the lube, the sex, the food, the setting? I can't speak for every couple, but I just can't imagine someone's mate saying, "Darling all I want for Christmas is matching sex lube." Sure, it has the potential to keep giving, but the receiver is going to be a little put out with the gift, especially depending on the brand and the ingredients. As with anything new, perhaps a trial or patch test can prevent an embarrassing trip to the doctor.
Holiday sexy gifts are not genitals. The receiver can't possibly tell anyone what they received ("I received a really hard…. Or a really wet…. Or a really lubed….") without running off everyone in the room. If this is a new lover, they may have a problem interpreting the meaning of the gift.
Rather than provide a list of "favorite things" here is a list of "not favorite" things:
Handcuffs, furry, plain, or official. Leave any bondage gifts for those non-occasions.

Lingerie, holiday boxers, crotchless anything

Sexual "how-to" books, what are you trying to say?

Sex toys see item 1. If your mate does want a giant dildo, wait for some other time.
Sexy is listening to your partner and learning them and what really will give them joy. If that gift doesn't come to mind, there is always a gift card to their favorite place, not a MasterCard or Visa that is too generic and the fees are killer. Go with them when they use it, make a date of it. If they like Victoria Secrets, get them a gift card, don't buy it yourself, if they like the Bass Pro Shop, get the card and go with them. They like books, get them a Barnes and Noble card and go with them.
The holidays can be a sexy celebration as long as you and your partner go past the cliché expectations and just relax and enjoy each other.
Happy Holidays!
McKae, Maura, & Brigitte
Editor's Note: This topic was first featured in Brigitte's previous incarnation. She was fortunate to still have McKae's contact info and ask her to update this topic. Maura was excited to see the original article and agreed to having a revisit.
The original advertisement that inspired this was courtesy KY Yours + Mine "Holiday" 2018 commercial. The advertisement that caused jewelry to be added was Kay Jewelers Every "Best. Gift. Ever." commercial 2019.
You know what else would be the best gift ever? Sharing this with your friends.